Six Reasons to own a Tetruss
1: You don't have or want a permanent bondage equipment space in your home or apartment.
2. You want to put your sub into suspension bondage without becoming a shibari ropemaster.
3. You want a PORTABLE bondage suspension rig you can assemble or take down in 5 minutes.
4. You want a LIGHTWEIGHT piece of bondage equipment you can take anywhere – hotel, a friends, outdoors, or a dungeon play party.
5. You want a FREE STANDING dungeon equipment system that requires no bolts, or brackets in the ceiling, floor or wall.
6. You want a HIGH STRENGTH system engineered for safe suspension bondage.
GOES ANYWHERE
Home, Hotel, Office, Dungeon, Outdoors in 54 inch duffel bag
High Strength Aluminum Alloy Rig , Tetruss  Rig weighs @ 21 pounds Tetruss Maxximus weighs @33 pounds
NO!!!  Bolts, Brackets, Hooks, Holes, or Nails in ceilings or walls
SAFELY Suspend up to 2 subs or 300 pounds
Your average sub can assemble Tetruss Rig in 5 minutes! Tetruss Maxximus assembles in 15 minutes
Tetruss Rig Requires 8 foot ceiling or higher;  Tetruss Maxximus requires 8 foot ceiling or higher;  You can request our custom height option for lower ceilings for either rig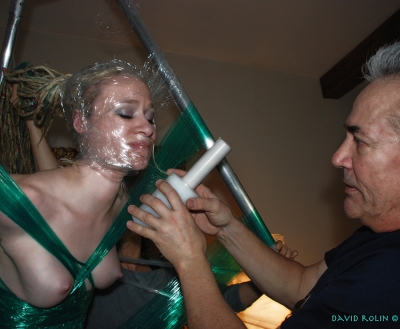 Tetruss Rig – 8 FT Triangular Footprint Tetruss Maxximus Rig – 9 FT  Triangular Footprint
HIGH-STRENGTH  Light-weight aluminum alloy